The Mooresville Hydrail Initiative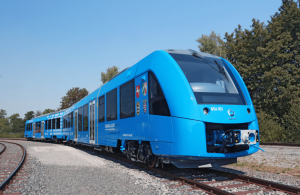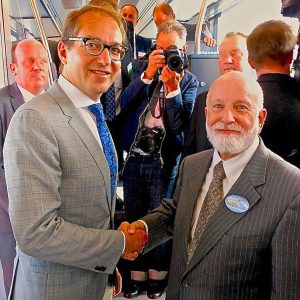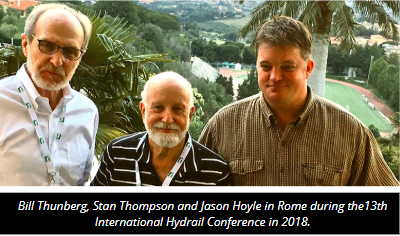 In 2002, the Mooresville South Iredell Chamber's Transportation Infrastructure and Air Quality Committee—working with the Charlotte Area Transit System and the Centralina Council of Governments—conceived and began to network the idea of wireless electric rail transit powered by hydrogen fuel cells. We named the new technology "hydrail." This has become the generic international name of the technology.
Administrative and political complexities took Mooresville out of the running but California's San Bernardino Transit Authority has now picked up the hydrail torch and will run the first US hydrail transit line.
In 2003, the "think tank" of the US Department of Transportation invited Mooresville to present the hydrail idea to the US DOT, the Department of Defense and industry. See here: US DOT Ritter Letter
In 2004, we shared the idea with the public in Charlotte. See Here: All Aboard the H2 Train- S.Boykin
In 2005, we proposed to China that they work with us to improve urban air quality by introducing hydrail. See Here: 2005 Email to CN H2 Ass'n Chair MAO ZongQiang
In 2013, the Southwest Jiaotong [railway engineering] University flew the Chamber's Stan Thompson to Shanghai for a week to speak and chair the Hydrogen Locomotive Session at the 5th International Hydrogen Technology Convention.
Two years later, China opened hydrail factories in Qingdao and Tangshan.
At our 8th International Hydrail Conference in Toronto, 2013, the Chamber's networking strategy achieved its primary goal and, as we hoped, the first hydrail trains went into public service in Lower Saxony, Germany, in 2018. 
Twenty-nine countries have now begun moving toward hydrail.
Thanks to our former Congressman, Ted Budd, the USA is one of them! See Here: Budd Chao Batory Hess.
Next year at Canada's University of British Columbia at Okanagan, the Mooresville Hydrail Initiative's Sixteenth International Hydrail Conference is scheduled. Mooresville's hydrail conferences have been held in Charlotte, Salisbury, and Mooresville NC; Herning, Denmark; Valencia, Spain;  Istanbul, Turkey;  Birmingham, UK., Toronto, Canada; Neumünster and Hamburg, Germany;  Graz, Austria;  and Rome, Italy—mostly at universities.
France, Scotland and a few other countries have committed to eliminate diesel trains completely—mostly with hydrail—within fifteen years,making the Mooresville Hydrail Initiative one of the most effective climate protection movements on the planet.
Podcast:
"Many thanks to WSGE Independent Radio host and Charlotte environmentalist, Ken Szymanski, who has been helping to bring hydrail to the attention of the Mecklenburg green community for some time.
Thanks also to the memory of my friend and Ken's, retired chemical engineer J. Don Keen—another Charlotte voice for hydrogen's climate advantages—who passed away earlier this year."
https://soundcloud.com/wsgeradio/wsges-community-insight-the-promising-future-of-hydrail